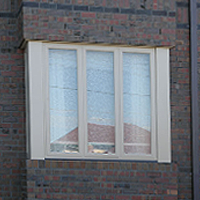 Aluminium Double Hung Windows: Why is it a Great Choice for your Home?
October 10, 2016
For the most part, homeowners know when it is time to replace most or all of their windows. In addition, the large variety of window type can be quite daunting when it comes to choosing. However, one of the most cost effective and durable choices are aluminium double hung windows.
Fits Your Personal Style
Aluminium double hung windows are an everlasting classic that enriches both traditional and modern homes. Their slim-line features add a clean and neat appearance. In fact, the strength and flexibility of aluminium makes it possible to request exact specifications to fit your needs. This is because they can be easily extruded into the complex shapes needed. And with the endless selection of structures, a wide range of options are possible. Plus there are a large variety finishes available so that your aluminium windows are perfectly matched to any decor. In fact, your windows can be as simple or elaborate as you desire.
Amazing Thermal Performance
Aluminium double hung windows deliver excellent thermal performance. Without question, they are able to meet or exceed today's energy efficiency standards. In fact, aluminium doors and windows can readily achieve improvements in heat gain and heat loss by 60% when compared to uPVC and overpriced timber.
Although aluminium is a high thermal conductance and easily becomes cold, modern advances have new thermal break designs that greatly improve insulation values. In truth, older aluminium U-factors are at 2.0 while newer models are lower than 0.5. Note: the lower the U-factor number, the better the window keeps heat inside a home when it is cold outside.
Durable and Non-Corrosive
Aluminium double hung windows are a great choice for your home. They are strong yet light, durable and non-corrosive. Furthermore, they can be constructed to exceptionally close tolerances to build special forms for adding thermal breaks, glazing and weather stripping. And unlike other materials, long lasting aluminium windows does not crack, warp, swell or split. And if additional protection is desired, aluminium can be painted or anodized. Moreover, aluminium double hung windows are very low maintenance and require little care.
Reasonably Priced
Not only are aluminium double hung windows long lasting, durable and have a great score in thermal performance, they are also very affordable. In fact, they are considerably less expensive than other framing options. Moreover, aluminium double hung windows provide both an economical and energy efficient solution. They are the perfect answer to replacing most or all of your windows when needed.
Austral Aluminium Products
4/1497 Sydney Road, Campbellfield
P: (03) 9357 4177
F: (03) 9357 4155
E: sales@australw.com.au
Optimized by NetwizardSEO.com.au