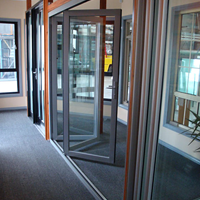 Where Can I Purchase High Quality Aluminium Windows and Doors?
February 8, 2016
Aluminium is a building material that is lightweight, durable and attractive all at one time. When it comes to it being in doors and windows, it will withstand the natural elements, such as wind, rain and UV rays while it adds a special ambiance to the house that it adorns. With all this said, you may be asking yourself "Where can I buy high quality aluminium windows and doors for my house?" at this moment. We are proud to say that you can find these quality items from us here at Austral Aluminium Products in Campbellfield, Australia.
Over 30 Years of Experience in the Industry
For over 30 years, our company has been building doors and windows from high-quality Aluminium to serve the needs of owners of residential and commercial structures. During these years, we have perfected our skills and products to the point that we bring you the best quality possible with each product we deliver to you. We provide commercial-quality framing with our doors and windows, but in a way that makes them easy to install in your structure.
We Offer a Wide Assortment of Products
Austral offers a wide choice of products for you to select from in high quality aluminium windows and doors for your structure. It will depend on the style of the house or building and the size of your window and door openings as to which style that you prefer for your residence or business structure. Explore your options below:
Awning windows
Bi-Fold windows and doors
Casement windows
Double-hung windows
Sliding windows and doors
French doors
Stacker doors and windows
We Provide a Wide Assortment of Features
Austral includes a wide array of features with our windows and doors, including the following:
All doors and windows are made to measure to fit your property exclusively
We include special reveal details
Tailored locking packages are available
Energy-efficient glass is in each door and window
High-quality hardware
Double glazed
We Offer Replacement Service
On top of new installations of our windows and doors, we also offer replacement service when necessary. You will be able to repair and maintain our products with our help throughout the years that they adorn your house or commercial building.
Turn to us the next time you require high quality aluminium windows and doors for your residential or business structure. We look forward to explaining our offerings in-depth and serving your needs. Our company backs our workmanship and products with a guarantee of satisfaction.
Austral Aluminium Products
4/1497 Sydney Road, Campbellfield
P: (03) 9357 4177
F: (03) 9357 4155
E: sales@australw.com.au
Optimized by NetwizardSEO.com.au