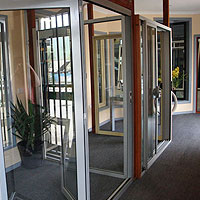 Aluminium Stacker Doors: Why Are These Doors a Good Choice for Your Home?
May 31, 2016
Over the years, aluminium stacker doors or folding doors have gained popularity with homeowners. In part, this is due to their smooth-working mechanisms that allow the homeowners to open and close them without issues. A number of other benefits come with these doors, though, and we will explain why these doors are an ideal option for your home in the following facts.
1. Ideal to Allow Light Into the House or to Access the Outdoors
Aluminium folding doors are ideal when you wish to let the light flow into your house through an expansive opening, but still have the ability to open the area for access to a patio or yard. You can install multiple doors to cover the specific area that you have in mind if necessary. As you open the doors, they also neatly fold together to conserve space.
2. Low Maintenance and High Durability
Another benefit to these aluminium doors is the fact that there is little to no maintenance throughout the years of use with them. A simple wipe with clean cloth and maybe a bit of glass cleaner to remove dust, smudges and stains will do the trick. Along with this, aluminium is highly durable to withstand daily use and the weather elements.
3. A Cost-Effective Investment
Aluminium stacker doors are a cost-effective investment since you can cover a large area for far less than with doors made from other materials. This fact also increases your return on the investment you make in these doors when you figure in how many years these stacker doors will serve your needs.
4. Energy-Efficient
Today's aluminium material for inclusion in these doors offers excellent thermal efficiency, especially when paired with high-quality glass. Use of aluminium folding doors, as a result, will save you money on your household energy use.
5. Increases the Value of Your Home
The addition of stacker doors of aluminium will increase the overall value of your home. Whether or not you intend to sell it, it is always beneficial to up the value of your house. Along with bringing you a higher sales price if applicable, you may also be able to receive a higher amount with a home-equity loan in the event that you are not planning to sell the house.
To discover further information about aluminium stacker doors, contact Austral Aluminium Products. We are experts in our field and strive to satisfy all of our clients' needs with quality service and products.
Austral Aluminium Products
4/1497 Sydney Road, Campbellfield
P: (03) 9357 4177
F: (03) 9357 4155
E: sales@australw.com.au
Optimized by NetwizardSEO.com.au