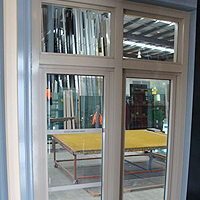 Why Aluminium and Glass Should Go Together In Quality and Durability for Windows and Doors
September 7, 2016
When people are out looking for new doors and windows for their homes, there are a few things that should be on one's mind. First, these should be strong and durable, secondly, to save time search for doors and windows in a set price range, and lastly these should look appealing. Homeowners should look for doors and windows that meet their criteria when comparing different kinds of materials that these are made from. Popular materials include aluminium and glass.
Quality Aluminium and Glass Windows and Doors
Over the years, the combination of glass and aluminium has become the most preferred materials for use in windows and doors, for very basic reasons. Here are just a few reasons why aluminium with glass are an attractive and durable combination.
Enhanced Aesthetic Value
Whether you want to sit and relax looking at the swimming pool or garden areas, from inside your home, then glass is the obvious choice for an uninterrupted view. Melded with aluminium, glass become more durable and takes on a minimalist look that property owners like.
Durability with Low Maintenance
It is true, glass can go with iron and wood frames too, but these two materials require regular maintenance, unlike aluminium which does not corrode, rot, or rust. Not only that, but aluminium is immune to all types of weather conditions, does not crack, swell or split, things that can damage or shatter the glass in doors and windows. Basically, quality aluminium and glass windows and doors cost less and require little or no maintenance.
Insulation
When it comes to thermal and sound insulation, few materials can beat the durability of aluminium windows and doors. In fact, quality aluminium and glass windows and doors will save money because aluminum is known to be thermally superior to both PVC and wood, increasing the energy efficiency of a home by 60% in both heat gain and heat loss.
If you are in the market to buy quality windows and doors, then consider aluminium, it's is affordable, aesthetically appealing, durable, and requires little or no maintenance. To ensure the best price and installation, please visit Austral – experts for high quality, durable and affordable aluminium doors and windows installation.
Austral Aluminium Products
4/1497 Sydney Road, Campbellfield
P: (03) 9357 4177
F: (03) 9357 4155
E: sales@australw.com.au
Optimized by NetwizardSEO.com.au