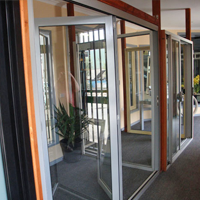 Choose High-Quality Aluminium and Glass for Replacement of Windows and Doors
November 2, 2016
For many homeowners, their preference is to turn to high-quality aluminium and glass for replacement of their present windows and doors. The reasons for this ranges from the lightweight nature of the aluminium to the thermal performance of both elements together in doors and windows. While wood used to be the norm for these features in home and commercial buildings, we know today that this metal provides a durability that wood cannot match. Below, we will explore these benefits and others when you make the choice for this material combination for your doors and windows.
Aluminium Doors and Windows Are Lightweight in Comparison With Other Styles
When you compare aluminium windows and doors to the ones of other materials, you will discover that aluminium is the lightweight choice. Often, this feature lowers the cost of installation since the house or commercial building will not need additional supports to hold the windows and doors securely in place.
High-Quality Aluminium and Glass Together Provide Efficient Thermal Performance
Today, when you combine high-quality glass and aluminium together, the results are windows and doors that provide efficient thermal performance. In fact, these windows and doors achieve improvements in heat loss and gain by up to 60 percent over other choices, such as timber ones.
Windows and Doors of Quality Glass and Aluminium Are Impact Resistant
The combination of high-quality glass and aluminium provides doors and windows that impact resistant for areas where severe storms are an issue. In these areas of the country, this is a valued feature that reduces the need for replacement every time inclement weather rolls through the areas.
Various Styles Are Available
Another benefit to the high-quality aluminium and glass for replacement of windows and doors is the fact that you have a wide assortment of styles available from which to make your selection. For this reason, you can choose the ones that complement your house's or commercial building's overall decor.
Austral Aluminium Products
4/1497 Sydney Road, Campbellfield
P: (03) 9357 4177
F: (03) 9357 4155
E: sales@australw.com.au
Optimized by NetwizardSEO.com.au