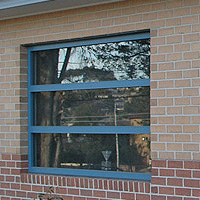 Insulating Windows Using Aluminium
June 8, 2016
Window installation is a highly effective way to save money off a home's heating and cooling bills, while at the same time these help keep the interior of a building comfortable, no matter what the weather is doing outside. When the temperature drops and rises quickly, having a well-insulated home helps to keep a consistent, comfortable temperature for your family.
What is the best choice for window insulation? Insulating windows using aluminium is advised for a few reasons, it is cost-effective, extremely functional and easily repaired, and aluminium window frames can be installed in any home irrespective of the window design or size. In fact, over the years, more and more Australians are investing in this type of window for the obvious benefits listed below.
Keeps the Heat Inside the Home
When window condensation is high, all the warmth generated from the heater can escape quickly, same is true of the cold air from an air conditioning unit when windows and doors are not sealed tight. Easy to install aluminium windows help to keep the heat inside, even when it is very cold outside. An aluminium window expert can customise window frames to fit any measurement or design you ask for, and in many cases it is cheaper than other types of window frames.
Cost Effective Material
While wood and other materials have increased in cost over time, aluminium is still one of the most economical options available because it has near limitless uses. Whether it is for use in your home or office, you will not have to worry about exorbitant costs with both installation and maintenance of aluminium window frames. As a matter of fact, these windows are expected to save property owners up to 60% off their energy costs during the winter months. Taking that into consideration, aluminium window frames will pay for themselves over time.
Durability of Aluminium Windows
Of course, most people know that aluminium is corrosion free and does not rot like wood. That is why these last longer than wood window frames because aluminium is a low maintenance material, it can be cleaned with a simple piece of cloth. And, it is also resistant to any splits, cracks or swelling, unlike wood.
If you are interested in using aluminium windows for your home or work, then Austral Aluminum Products can help. Let our experts show you the many design possibilities that customizations can offer you, when you choose to insulate your windows with aluminium.
Austral Aluminium Products
4/1497 Sydney Road, Campbellfield
P: (03) 9357 4177
F: (03) 9357 4155
E: sales@australw.com.au
Optimized by NetwizardSEO.com.au