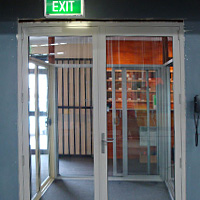 Benefits of Bi-fold Aluminium Doors for Your Home
March 29, 2016
If you're a practical individual who wants to invest in a door that is durable, low-maintenance, and strong, then you'd be amazed at the virtues that aluminium doors have to offer. Not exactly a primary choice for the more 'old school' homeowners, aluminium has grown steadily in popularity over the past years, thanks to its versatility, modern and stylish appeal. And, for its innate properties that make it vastly superior to the old-fashioned wooden doors of earlier decades.
People may think that aluminium doors are unwieldy and heavy, but this is only due to the assumption that something that is obviously made out of metal must be heavy. Thankfully, aluminium is among the lightest occurring metals in nature. In spite of its lightweight nature however, Aluminium is surprisingly durable and resistant to corrosion, making it ideal for outdoor settings. One of the most popular varieties of aluminium doors today are bi-fold doors.
Bi-fold doorways may seem odd for home settings, being more suited for large companies, restaurants and the like, but there are obvious benefits of bi-fold aluminium doors that most people miss out on, because of false assumptions.
Here's a quick look at why bi-fold aluminium doors are perfect for your home:
Weather and corrosion resistance – even the most beautiful of wooden doors eventually fall prey to the unforgiving and relentless effects of weathering. Unlike wood, which can rot away with time, aluminium doors are weather-resistant. Being a non-corrosive alloy, it does not rust and will retain its sleek shine and the finish it comes with it for a very long period of time, which makes it the perfect option for outdoor settings.
Low-maintenance nature – because aluminium is extremely durable, it doesn't require as much attention or maintenance as other door varieties. Unlike wood, which isn't 100% weather or termite resistant, aluminium is nigh-impregnable and does not require any special finishes or coatings to maintain its weather resistance.
Wider berth – this needs to be mentioned in the case of bi-fold doors, since they offer some of the best possible means of ingress and egress available today. Because of their capacity to open wider than most typical doors, you can readily transfer large and cumbersome items with relative ease, and you won't have to settle for cramped entering and exiting either.
If you want to experience the benefits of bi-fold aluminium doors today, then please contact us today at Austral Aluminium Products.
Austral Aluminium Products
4/1497 Sydney Road, Campbellfield
P: (03) 9357 4177
F: (03) 9357 4155
E: sales@australw.com.au
Optimized by NetwizardSEO.com.au