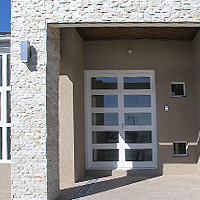 Aluminium French Doors Adds to Your Home's Appeal and Ambiance
April 29, 2016
Whether you are in search of a different front entrance or wish to enhance your patio doors in a unique manner, you should consider aluminium French doors. Doors of this style and material add a special ambiance and appeal to your home. French doors are doors that contain a singular window or a collection of small lites or windows set in the entire length and width of the doors with a border around them. The usual number of these windows ranges from one to 15, but could be a higher number. In addition, you can order these doors with frosted, clear or art glass. You may just require a single door to fulfil your needs or multiples hung together. If you are unsure at this point about these doors, read about their benefits below along with the advantages of aluminium to assist you with the decision.
Benefits of French Doors
French doors open into room and this maximises patio space. A feature such as this is especially beneficial during outdoor parties since it allows the guests as much space as possible to enjoy the festivities.
Doors of this style let additional sunlight into a room in comparison to solid doors without windows. With all this natural light, you can reduce your electric bill since you will not only illuminate your room for free, but also this additional sunlight will bring heat to the room.
Increase the view of your gardens with aluminium French doors. Sit in your living room and admire all the flowers, trees and shrubs as they grow, bloom or produce attractive foliage.
Improve your curb appeal by installing a French door or two at your front entrance. For this application, you may prefer frosted glass or art glass in place of clear for the sake of privacy. You will make a dynamic, style statement to all who approach your house when you install French doors at your entryway.
Advantages of Aluminium
Aluminum is lightweight yet durable and provides an affordable option in French doors. This metal will stand up to the weather elements over the years with minimal maintenance. These doors also are easy to install since they are not as heavy and bulky as the wood versions.
Contact Austral Aluminium Products when you are in search of quality aluminium French doors. We are experts in this type of doors along with other styles of doors and windows. All your doors will be made to measure and are double-glazed. In addition, they contain special, high-quality details, locking packages, energy-efficient glass and hardware.
Austral Aluminium Products
4/1497 Sydney Road, Campbellfield
P: (03) 9357 4177
F: (03) 9357 4155
E: sales@australw.com.au
Optimized by NetwizardSEO.com.au