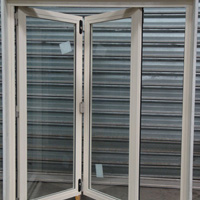 Aluminium Stacker Doors: A Wise Door Choice for Patios
November 15, 2016
Patios have special needs for doors in comparison to other areas of the home. The reason for this is the fact that the door opening is anywhere from two to six times wider on average than the opening for a single door, such as the one at your front entryway. One popular choice for the patio today is aluminium stacker doors or stacking doors. Doors such as these are multiple panels that fold as they open and unfold to close. All the panels do not need to move, though, as a panel can be stationary at one end or at both ends. Continue on with our information to learn additional facts about this topic.
Stacker Doors Provide a Sense of Elegance
Aluminium doors that stack create a look of elegance at the entry of the patio in comparison to the more simplistic sliding doors that have been the norm for years. Since different styles and colours exists in these doors, you also can match the existing decor of their surrounding area.
Stacking Doors Are Ideal for a Limited Space
Similar to the nature of sliding doors, the stacking doors are ideal for a room of limited space that overlooks the patio. The reason for this is the fact that the doors stack to one side neatly and out of the way instead of opening into the room or the patio.
These Doors Offer a Spacious View of the Backyard
Stacking doors provide a spacious view of the backyard since they normally cover a wider opening than traditional sliding doors do for a patio entrance. When the weather is pleasant, you will be able to open the doors all the way up to enjoy your view without any obstructions from the framework. You also will gain additional light flowing into the room by selecting this style of doors.
Aluminium Stacking Doors Are Weather Resistant
With their quality construction, stacker doors of aluminium are weatherproof to keep the rain, wind and other weather elements outdoors where they belong. This also will help control your temperature since it will eliminate heat or cold leakage depending upon whether you are heating or cooling your house.
An Affordable Choice for Patio Doors
As with other models of aluminium doors, stacker ones are the affordable option for patio doors. Other styles that are suitable, such as bi-fold models are pricier and do not offer you the same benefits as the stackers do for your patio entryway.
Austral will supply and install quality aluminium stacker doors on your patio in a durable, weatherproof manner. We are experts in aluminium windows and doors, and provide durable, attractive products and expert workmanship.
Austral Aluminium Products
4/1497 Sydney Road, Campbellfield
P: (03) 9357 4177
F: (03) 9357 4155
E: sales@australw.com.au
Optimized by NetwizardSEO.com.au