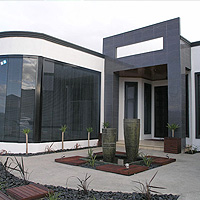 What Makes Aluminium Doors and Windows A Practical Choice for Your Home?
May 18, 2016
When it comes time to replace or install doors and windows in your house, join many other homeowners and select aluminium ones. After all, aluminium doors and windows are lightweight, durable, affordable and easy to maintain along with providing high-quality thermal performance. In addition, they complement today's house styles ranging from modern to traditional. Explore the many advantages of these doors here in this information.
Lightweight Construction
The lightweight nature of these doors and windows makes them easy to install, whether you perform the installation on your own or with professional assistance. This is not the case when the windows and doors are out of materials such as timber.
Durable and Weather Resistant
The durability of these windows and doors enables them to stand up to daily usage without swelling, splitting, warping or rotting. Aluminium frames for doors and windows also are resistant to all types of weather from rain to snow, and will not corrode.
An Affordable Investment
When you compare the expense of purchasing aluminium doors and windows with other types of these elements, these are less expensive. Add this to the fact that these doors last for years, and you receive a higher return on your investment in comparison to windows and doors of timber for just one example.
Aluminium Windows and Doors Are Easy to Maintain
Doors and windows with aluminium frames do not require extensive maintenance. You will not need to paint them as with timber frames or even remove rust from them since they are corrosion resistant. Just clean them with a damp cloth to remove dust, dirt or pollen.
High Thermal and Acoustic Performance
Aluminium frames of windows and doors provide acoustical and thermal insulation to meet and even exceed building codes. When you add these frames to the energy-efficient glass available today, the efficiency of these doors and windows increase dramatically with thermal performance and acoustical or sound insulation. Your doors and windows will achieve improvements in heat loss and heat gain by at least 60 percent.
Aluminium Windows and Doors Complement All Styles of Houses
Thanks to the flexibility of design with aluminium, doors and windows with it for a frame come in a variety of options in order to match multiple house styles. You can find ones suitable for modern, contemporary, traditional and other types of home styles.
For all the reasons above and probably a few we did not mention here, aluminium doors and windows are a practical choice for your house. Turn to Austral Aluminium Products for further information on these elements to enhance your home the next time you need new ones.
Austral Aluminium Products
4/1497 Sydney Road, Campbellfield
P: (03) 9357 4177
F: (03) 9357 4155
E: sales@australw.com.au
Optimized by NetwizardSEO.com.au